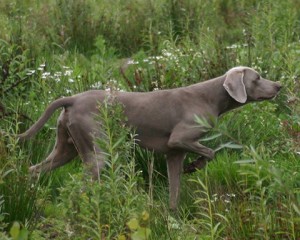 Welcome
Welcome to our website.
We currently have 3 Weimaraners.
The weimaraner is a huntingdog before and after shot. They love sporting with their owner and have a high will to please.
A Weimaraner is not a lapdog and without proper exersize they will not be happy.
Every now and then we have a litter selected on health, temperament and pure hunting instincts.
We breed according the rules of the Dutch Weimaraner club WSH, the World Alliance of Hunting Weimaraners (WAHW) and the official FCI standard.
Puppies
This moment we haven't got puppies or planned litters yet.
Learn more…
Articles
Articles about dogtraining, hunting and more
Our dogs
Classic Dream's Talk of the Town (Vidar)
Hot Shoot's Felicia
Chanel